Spicy Barley and Vegetable Soup with Meatballs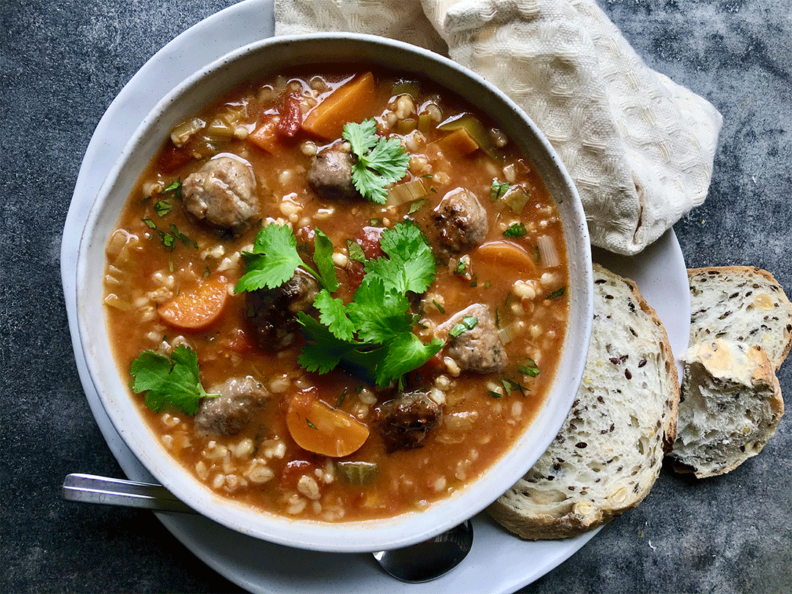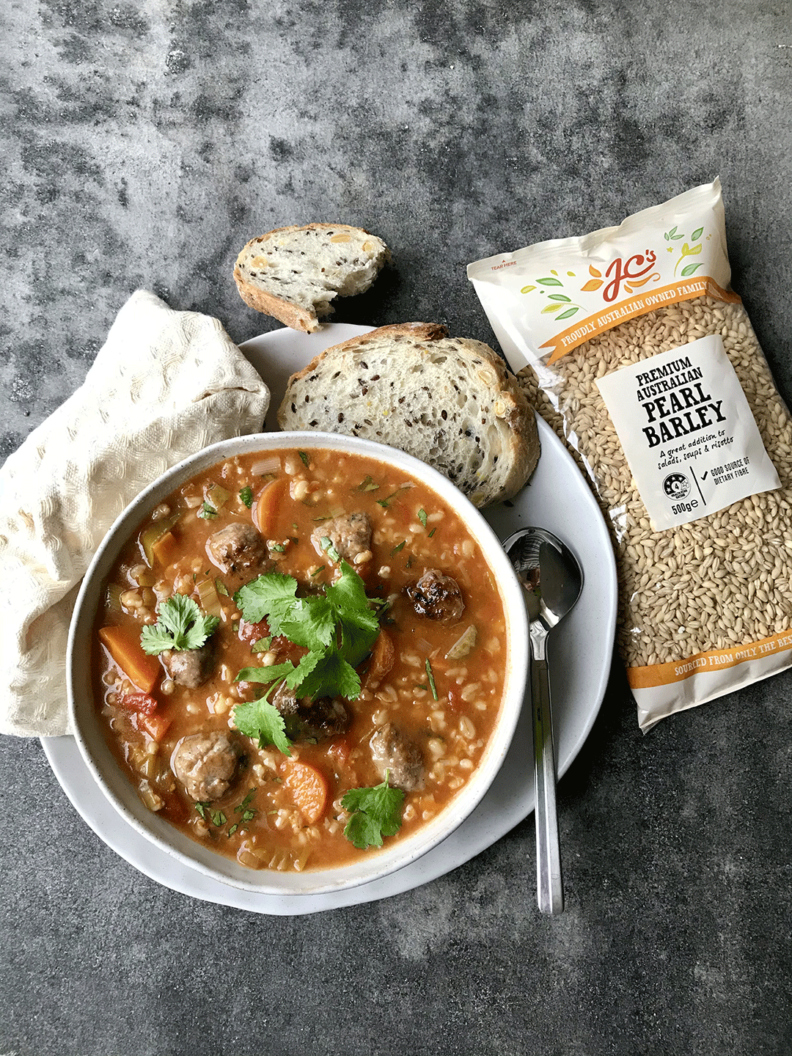 Keep warm this winter with this delicious spicy barley and meatball soup, using JC's Premium Australian Pearl Barley. Make this a weekly staple in your family for a healthy mid-week kick.
If you create this soup or any of our nutty recipes, tag us on social media! We would love to see them.
@Jcsqualityfoods
@Jcsqualityfoodsau
Serves 6-8
Preparation time: 25 minutes Cooking time: 1 hour and 45 minutes
Ingredients
2 tablespoons oil
2 leeks, washed and sliced
4 large cloves garlic, crushed
3 med carrots, peeled, halved lengthwise then sliced
3 sticks of celery, sliced
3 teaspoons cumin
3 teaspoons coriander
3 teaspoons paprika
1 1/4 teaspoons chilli flakes
2 x 400g can diced tomatoes
1 1/2 cups JC's Premium Australian Pearl Barley, rinsed under running water
2 1/2 litre's low salt beef stock
Salt and pepper, to taste
8 angus beef sausages
1/2 cup chopped coriander
Coriander leaves, for garnish
Crusty bread, for serving
Method
Heat the oil in a large 5 litre saucepan/stockpot Sauté the leek and garlic gently for 5 minutes, add the carrot and celery and cook for a further for 5minutes. Stir in the spices and cook a further minute or so until fragrant then add the tomatoes, barley and stock. Bring the soup to the boil then reduce the heat, cover and simmer for 1 hour.
Meanwhile split the skins of the sausages, remove the sausage meat then discard the skins/casings. Cut each of the sausage meat portions into 6 then roll into meatballs to make 48. Spray a large non-stick frypan with oil and cook the meatballs over a medium heat for 5 minutes or until well browned and cooked through. Drain on absorbent paper.
Add the meatballs to the soup, cover and simmer gently a further 20-30 minutes, stirring occasionally. Season to taste, then stir through the coriander. (Add a little extra water or stock if the soup becomes too thick)
Ladle the soup into serving bowls, top with extra coriander leaves and serve with crusty bread