Chickpea and Roasted Vegetable Curry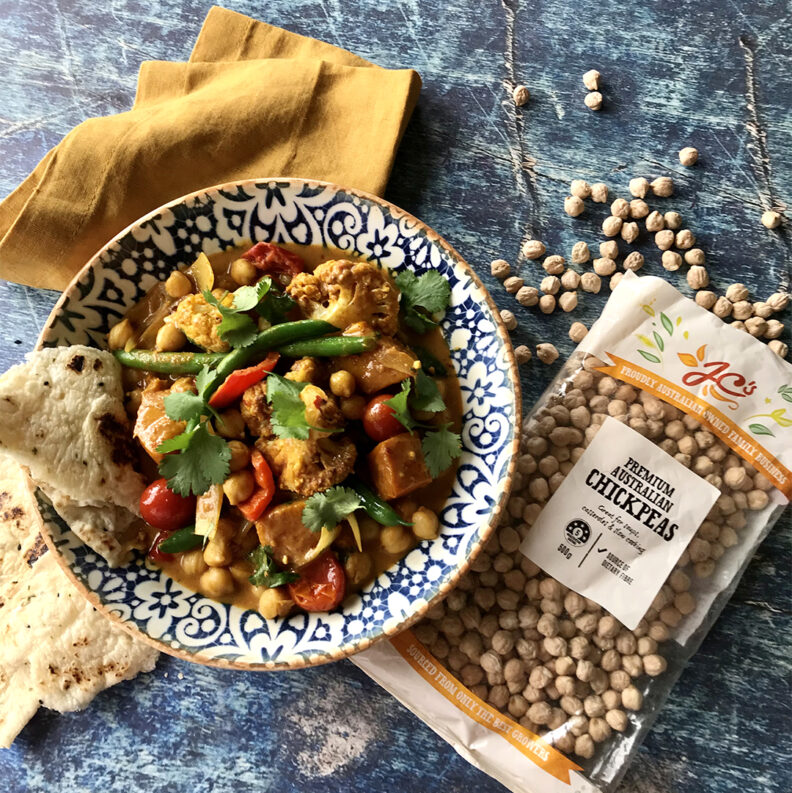 If you create this curry or any of our nutty recipes, tag us on social media! We would love to see them.
@Jcsqualityfoods
@Jcsqualityfoodsau
Serves 6
Preparation time : 25 minutes, plus overnight soaking Cooking time: 60-70 minutes
Ingredients
1 cup JC's Premium Australian Chickpeas, soaked overnight in cold water and drained
700g butternut pumpkin, cut into 2.5cm chunks
600g cauliflower florets, halved (1 small-medium cauliflower)
Olive oil spray
2-3 tablespoons olive oil
1 large onion, sliced
1 red capsicum, cut into 2cm pieces
3 cloves garlic, crushed
2 teaspoons cumin
2 teaspoons ground coriander
2 teaspoons garam masala
1 teaspoon turmeric
1 teaspoon paprika
1 teaspoon chilli flakes
1x 400g can cherry tomatoes
1x 400g can coconut milk
1/4-1/3 cup vegetable stock
250g green beans, trimmed
Salt and pepper, to taste
1 teaspoon brown sugar
1/2 cup shopped coriander leaves
Coriander leaves for garnish
Garlic naan, for serving
Method
Place the chickpeas into a saucepan of cold water, bring to the boil and cook for 35-45 minutes or until the chickpeas are tender. Drain well.
Meanwhile place the pumpkin and cauliflower onto lined oven trays, spray with oil. Bake in a hot oven 200°c FF for 20-25 minutes or until pumpkin is just tender and cauliflower lightly browned. Cool slightly.
Heat the oil in a large frypan and sauté the onion, capsicum and garlic for 5 minutes. Add the spices and cook a further 2 minutes or until the spices are fragrant. Stir in the tomatoes. coconut milk and stock. Bring to the boil then reduce to a simmer. Add the beans, pumpkin, cauliflower and chickpeas then cover and simmer gently for a further 10 to 15 minutes.
Season to taste then stir through the sugar and coriander. Spoon the curry into serving bowls and garnish with coriander leaves. Serve immediately with garlic naan.
NB: Soaking the chickpeas overnight will speed up the cooking process. but it is not essential. If no soaking time is available boil a further 10-15 minutes or until tender.